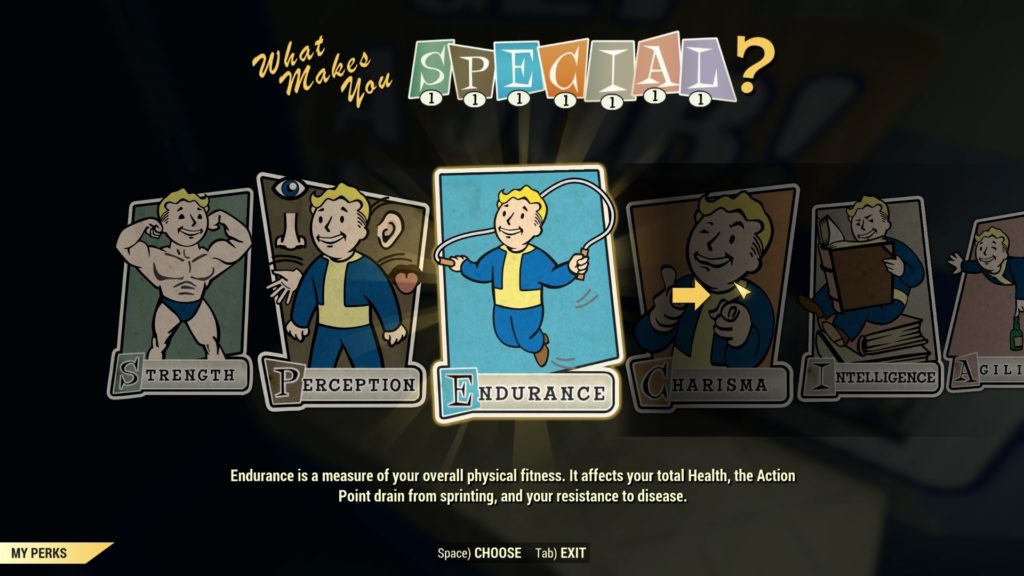 So, you might log in to Fallout 76 for the first time, and realize that the big beautiful easy to remember perk system has been TOTALLY revamped. Where do you even START? Are there perks worth forgetting? Will then benefit you in End Game content? Well, here is a quick guide to point you in the right direction, perks that will help you both in the beginning AND End Game content, no matter where you go or what you build! Here are the Best Perk Cards in Fallout 76 for Beginner's.
Strength Perks
I am one to believe that Strength can be possibly one of the BEST places to dump and entire 15 points. There are so many incredibly useful perks that you can eventually get, not to mention your character can literally one shot end game enemies if you build them right. Here are a couple perks that will help in MASSIVE ways
Perception Perks
Perception is fantastic for V.A.T.S., as well as bonuses for rifle users and fights against glowing enemies. Perception has a LOT of diversity with its perk cards, enough that it makes it worth putting a lot of points into, especially for end game content.
Endurance Perks
Endurance is the underdog of the Perk system… and for good reason. At this point in the game, there AREN'T a whole lot of perks really worth putting points into E for, but at the beginning you might want to consider these just to ease up your adventuring a bit, prevent some natural damages.
Charisma Perks
Charisma, opposite to popular belief, is FAR more helpful than one might think, even as a SOLO player! Charisma grants players a lot of helpful cap saving AND making bonuses, resistances, and if you do, in fact, have a partner, up to 15% bonus XP gain!
Intelligence Perks
Intelligence is one of the areas of the game that benefits the durability of your weaponry AND helps you make the most out of crafting. From weapons, armor, chemistry, tinkering, absolutely EVERYTHING depends on how much you put into Intelligence when it comes to crafting. Here are some incredibly helpful Fallout 76 Perk Cards in Intelligence
[adinserter block="4″]
Agility Perks
Agility is purely focused on Action Points and furthering your mobility. There's a lot of things that can severely slow you down in Fallout 76, so having perks that grant you the ability to actually RUN and MOVE is typically a refreshing thing to have. On top of that, Agility can also help out with other areas like crafting and damage dealing, so it's important to spec into this field.
Luck Perks
Finally, Luck, one of my absolute FAVORITE perk lines in the game. Luck gives players absolutely amazing perks to dealing damage, critical strikes, stuns, getting bonus resources, and more. Luck is definitely a skill tree to look into, especially for the perks of gaining bonus GOOD items.
I hope you enjoyed this Guide to the Best Perk Cards in Fallout 76! For more Fallout 76 Guides, check out:
Fallout 76 Official Kevduit Guides