Fallout 76 Springs Farming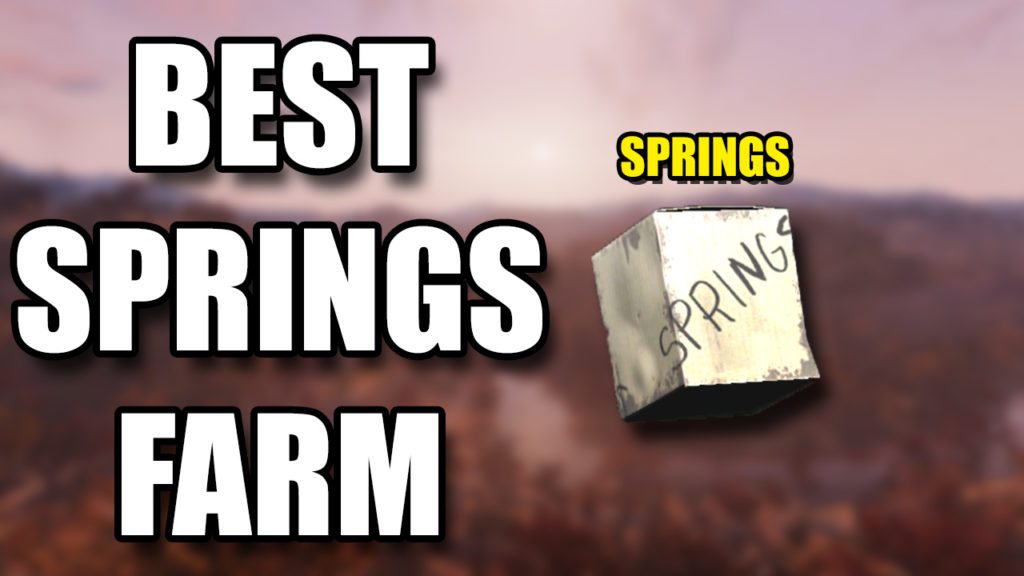 Springs are another incredibly essential junk item to Farm in Fallout 76. They are used quite heavily in the crafting of various weapons, armors, and power armors, and are often needed while trying to make Modifications for said items. 
Springs can be found in numerous items throughout Appalachia, so as you try to Farm for Springs, try to keep an eye out for items like:
Alarms Clocks
Battered Clipboards
Cameras (Good or broken)
Fishing Rods
Flip Lighters
Giddyup Buttercup (and all pieces)
Gold Pocket Watches
Handcuffs
Kitchen Scales
Life Preservers
ProSnap Cameras
Silver Pocket Watches
Toasters
Typewriters (All Types)
Umbrellas
Each of these items can be found in multiple areas throughout the map, but there are certain locations that contain much more than others, making them the best places to Farm Springs.
On top of a couple really good Spring farming locations, remember that YAO GUAI'S Also drop springs when killed. Just an important fact to remember.
The locations you want to head to in order to farm these items to break down into Springs are:
Abandoned Bog Town

Top floor of the tall building in town has tons of desk fans & typewriters, as well as the Main floor of the building.

Camp McClinktock

Scavenge all around the interior of the buildings for desk fans, clipboards, and more Springs based items

Mountainside Bed & Breakfast

Inside the building contains many items you can break down into Springs BUT there's also a Yao Guai spawn directly BELOW this B&B to quickly grab a couple Springs from

Ohio River Adventures

An absolute TON of Life Preservers, Desk Fans, and more.

Robco Research Center

Tons of clipboards, typewriters, and desk fans scattered throughout the facility, as well as robots that carry spring based components

Sugar Grove

My go to for Springs, with an absolute ton of items that contain springs scattered both inside the main lobby before entering the building AND within the building itself

West Tek Research Center

Another facility that contains plenty of clipboards, desk fans, typewriters, alarm clocks, and more