Legendary Crafting in Fallout 76 gives players the ability to (finally) apply 1, 2, or 3 star legendary effects to weapons and armor you've either acquired or crafted. Not only that, but you can also re-roll legendary's entirely to any tier you want (or can afford).
Not only this, but they've also added in the ability to add Legendary effects to Power Armor. So not only will you be able to find legendary pieces off of fallen Legendary enemies, but you'll be able to upgrade your current favorite power armor sets with their very own 1, 2, or 3 star legendary effects!
All in all, this brings up some major questions as to how the system actually works, how you can grind and farm for legendary cores/modules, and if it's worth it to upgrade what you have or craft new stuff.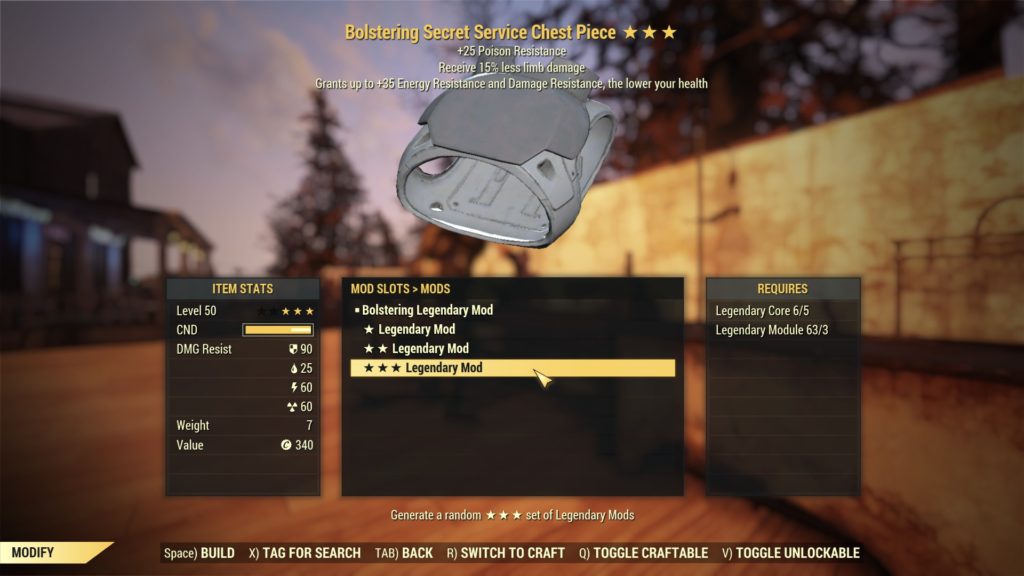 Legendary crafting is a GREAT system, but there's a couple things you need to be fully aware of before you make the beautiful same mistake I did… and completely destroy a legendary you liked. Well, live and learn.
Legendary crafting is completely randomized, so you click your button and let RNG do the rest, so you MIGHT get absolute crap, or you might roll a bloodied (or now, I suppose, aristocrat's) 25% fire speed, 15% reload Fixer. All up to the luck of the draw. 
THE IMPORTANT THING TO REMEMBER: Your current legendary's do not, in any way, "upgrade". The official post makes it sound like it just adds 2 or 3 star effects on a Legendary with some good base legendary effects. Say you have a Two Shot missile launcher. You want to keep the Two Shot effect, but would like to turn it into a 3 star with more legendary effects. Sad to say, but that's simply not possible. The moment you apply the Legendary "upgrade" it will entirely re-roll your Legendary, so now you might end up with a Troubleshooters or Mutant's instead. So make sure you know that before accidentally (pretty much) destroying one of your current favorite Legendary's with the hope of giving it more power. Hopefully they'll allow the ability the re-reoll SPECIFIC effects in the future, but for now that's not the case.
Now as you can see above, each of the different type of Legendary upgradable gear piece requires the exact same amount of Legendary Cores to craft, and although weapons and power armor require the same amount of legendary modules, REGULAR armor costs slightly less modules. 
Weapons:
1 Star = 1 Legendary Core / 2 Legendary Modules
2 Star = 3 Legendary Cores / 3 Legendary Modules
3 Star = 5 Legendary Cores / 4 Legendary Modules
Armor:
1 Star = 1 Legendary Core / 1 Legendary Module
2 Star = 3 Legendary Cores / 2 Legendary Modules
3 Star = 5 Legendary Cores / 2 Legendary Modules
Power armor:
1 Star = 1 Legendary Core / 2 Legendary Modules
2 Star = 3 Legendary Cores / 3 Legendary Modules
3 Star = 5 Legendary Cores / 4 Legendary Modules
Which, by the way, if you want to know EXACTLY which Legendary Effects are available, for Weapons, Armor, and Power Armor in Fallout 76, check out these guides:
How to Farm Legendary Cores and Modules
When I first heard of this system, I immediately thought "It's Gold Bullion all over again"… which basically meant you'd be grinding a stupid amount of weeks to get content locked behind a time-wall.
BUT IT'S NOT!
In FACT, they have actually made OTHER areas of the game worth participating in, as Daily Ops and Public Events (not the regular ones) now give out Legendary Cores! So now you can actually find more purpose in completing those specific Public Events and Daily Ops besides the usual rewards, they're far more worth your time with the ability of getting some sweet Legendary Cores out of the deal.
Not only that, but they've added Legendary Cores as a Seasonal Rewards as well, so just another reason to grind the Battle Pass! (Although… 3 Legendary Cores is pretty mediocre knowing that events can net you a solid 3-8)
Legendary Modules, on the other hand, are quite a bit easier to acquire. They can be simply bought from Purveyor Murmrgh at the Rusty Pick in the Ash Heap. Legendary Modules are bought for 50 Scrip each, and can be bought in a bundle of 10 per day. Considering the fact that you can now sell (or I suppose SCRIP is the official term *pushes glasses up higher*) up to 300 Legendary's a day, up to a total of 5000, you'll be able to get HEAPS of these.
Here's a list of the various Public Events and the amount of cores you can POSSIBLY get out of each. Some of them allow for a bigger haul depending on the level of completion during the event, but most result in just a couple.
Just a quick note: To get cores from Daily Ops, you need to finish in the Tier 3 time frame. 
| Daily Op | Amount of Cores |
| --- | --- |
| Decryption Event | 1-3 |
| Uplink Event | 1-3 |
| Event | Amount of Cores |
| --- | --- |
| A Colossal Problem | 8 |
| Campfire Tales | 2-6 |
| Distinguished Guests | 1-3 |
| Encryptid | 8 |
| Feed the People | 1-3 (More Creatures alive = Better Reward) |
| Free Range | 1-8 |
| Guided Meditation | 1-3 |
| Heart of the Swamp | 1-3 |
| Jail Break | 1-3 |
| Line in the Sand | 1-3 |
| Lode Baring | 1-3 |
| One Violent Night | 1-3 |
| The Path to Enlightenment | 1-3 |
| Project Paradise | 1-8 (More Creatures alive = Better Reward) |
| Radiation Rumble | 1-3 |
| Scorched Earth | 5 |
| Swarm of Suitors | 1-3 |
| Tea Time | 1-3 |
| Test your Metal | 1-3 |
| Uranium Fever | 1-3 |
| Daily Op | Amount of Cores |
| --- | --- |
| Decryption Event | 1-3 |
| Uplink Event | 1-3 |