Welcome to the Sea of Thieves, a Pirate's Life, Season 3 update! This is THE guide to the final Tall Tale of the series, Lords of the Sea. If you don't want any spoilers you best minimize this page now or forever hold your grog. This guide holds EVERY hidden commendation location, so you can rest assured knowing you won't miss a thing.
Lords of the Sea Tall Tale Guide
To begin, you need to vote for the Lords of the Sea Tall Tale at the Castaways camp at any Outpost. Once your crew has voted, you can enjoy the cutscene that has been set up for you. Just like the fourth Tall Tale, Lords of the Sea Tall Tale is NOT in a solo instance, so keep an eye out for other ships as they can interrupt your progress. Once storytime is over, check the skies and you should see that Davy Jones has uploaded his face to the cloud, head that way to begin the fun.
Lords of the Sea - Part 1
Lucky for you you won't be going Solo, Jack Sparrow will help you in this fight and it turns out he is quite a good shot. So if you don't have a friend to man the cannons Jack will do it for you.
Hitting any of these basic ghost ships three times with anything shot from your cannon will scuttle them.
After you scuttle a few ghost ships Jones will cry and say something about how you're going to pay for what you're doing. He'll start to summon massive statues from below the sea and more ghost ships. These statues can be ignored for the moment if you want to earn the previously mentioned commendation.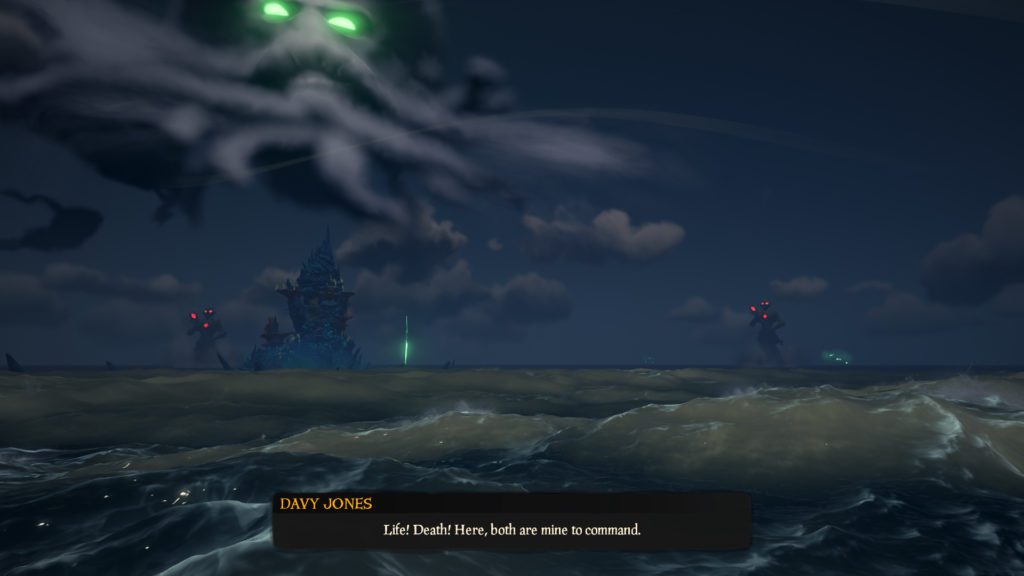 In my case I only ended up with about 5 siren statues destroyed in my first completion of this tall tale. You will need 10 destroyed for the commendation, so if this happens to you then just repeat the Tall Tale to earn that commendation.
Lords of the Sea - Part 2 Into the Spire
After blasting away at Jones armada eventually he will recall his ships, then Calypso and Jones will have a conversation before you can proceed.
After Calypso's light show Jack will remind you NON-STOP that you need to go into the spire as you are the only one who can save them. Indulge his request and head into the parkour spire, and collect all 5 Lost Soul Books on your way up!
Lords of the Sea - Part 3 The Black Pearl
Now that Jones is gone, it's time to enjoy the ending of this Tall Tale, but not before a well deserved tour of the Black Pearl. While we're here, let's check off those 5 books that are scattered around the ship.
Tall Tale Guides
Didn't get all of the Commendations? Check out all the guides to the Tall Tales here!